With an Introduction by Patrick Rothfuss.
Celebrated as the author of the five acclaimed historical fantasy novels of the Glamourist series, Mary Robinette Kowal is also well known as an award-winning author of short science fiction and fantasy. Her stories encompass a wide range of themes, a covey of indelible characters, and settings that span from Earth's past to its near and far futures as well as even farther futures beyond. Alternative history, fairy tales, adventure, fables, science fiction (both hard and soft), fantasy (both epic and cozy)—nothing is beyond the reach of her unique talent. WORD PUPPETS—the first comprehensive collection of Kowal's extraordinary fiction—includes her two Hugo-winning stories, a Hugo nominee, an original story set in the world of "The Lady Astronaut of Mars," and fourteen other show-stopping tales.
Content
The Bound Man
Chrysalis
Rampion
At the Edge of Dying
Clockwork Chickadee
Body Language
Waiting for Rain
First Flight
Evil Robot Monkey
The Consciousness Problem
For Solo Cello, op. 12
For Want of a Nail
The Shocking Affair of the Dutch Steamship Friesland
Salt of the Earth
American Changeling
The White Phoenix Feather: A Tale of Cuisine and Ninjas
We Interrupt This Broadcast
Rockets Red
The Lady Astronaut of Mars
Publishers Weekly STARRED Review:
Kowal's short works are difficult to classify, often poignant or tragic, and always spectacularly written. These 19 tales vary widely. "The Bound Man" spans ages within a dramatic alternate world; "Chrysalis" examines a single segment of an alien life cycle. Characters struggle to sort out difficult interfamilial relationships on a generation ship in "For Want of a Nail." Readers will sympathize with a teenage girl who is both stereotypically American and undeniably fae in "American Changeling." Some stories, such as "The White Phoenix Feather," offer a moment of laughter to lighten the mood, but even within the humor, the writing is serious in execution, style, and timing. Kowal sends readers off on a breathless trip to the stars.
About the Author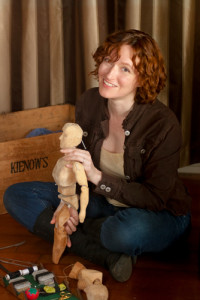 Hugo-award winning author, Mary Robinette Kowal is a novelist and professional puppeteer. Her debut novel Shades of Milk and Honey (Tor 2010) was nominated for the 2010 Nebula Award for Best Novel. In 2008 she won the Campbell Award for Best New Writer, while three of her short fiction works have been nominated for the Hugo Award: "Evil Robot Monkey" in 2009 and "For Want of a Nail" in 2011, which won the Hugo for short story that year. Her stories have appeared in Strange Horizons, Asimov's, and several Year's Best anthologies, as well as in her collection Scenting the Dark and Other Stories from Subterranean Press.
Kowal is also an award-winning puppeteer. With over twenty years of experience, she has performed for LazyTown (CBS), the Center for Puppetry Arts, Jim Henson Pictures and founded Other Hand Productions. Her designs have garnered two UNIMA-USA Citations of Excellence, the highest award an American puppeteer can achieve.
When she isn't writing or puppeteering, Kowal brings her speech and theater background to her work as a voice actor. As the voice behind several audio books and short stories, she has recorded fiction for authors such as Kage Baker, Cory Doctorow and John Scalzi.
Mary lives in Chicago with her husband Rob and over a dozen manual typewriters. Sometimes she even writes on them.