Whether weaving family life and history into dark fiction or writing speculative Afrofuturism, American Book Award winner and Essence bestselling author Tananarive Due's work is both riveting and enlightening. In her debut collection of short fiction, Due takes us to Gracetown, a small Florida town that has both literal and figurative ghost; into future scenarios that seem all too real; and provides empathetic portraits of those whose lives are touched by Otherness. Featuring an award-winning novella and fifteen stories—one of which has never been published before—GHOST SUMMER: STORIES, is sure to both haunt and delight.
With an Introduction by Nalo Hopkinson and an Afterword by Steven Barnes.
Publishers Weekly Starred Review: In these extraordinary tales, American Book Award–winner Due (My Soul to Take) uses a clear-eyed view of history to explain (but never excuse) the present. Sexual predators are recast as lake creatures ("The Lake"), and werewolves choose cosmetic treatment to disguise their monthly changes ("Aftermoon"); Due craftily employs these shape-shifters to explore how humans embrace transformations in ourselves and one another, even when the result is monstrous. Ghosts abound, bringing past and present into liberating contact. In the title novella, a family under threat of divorce finds reunion through a boy's ghost hunt, which exposes the historical tragedy splitting the Florida town in which they summer. Childhood acts as a prism for varied emotions, encouraging readers to empathize with a weary mother who allows a well-behaved spirit to possess her unruly child "just for the summer" ("Summer"). Pandemic disease in "Patient Zero" and zombie apocalypse in "Danger Word" (the latter coauthored by Due's husband and frequent collaborator, Steven Barnes) heartbreakingly overwhelm adults' best efforts to protect the young. Even facing the end of the world and what comes after it, Due remains in control, carefully unveiling characters' thoughts and feelings to her enthralled readers. Nalo Hopkinson provides an introduction; Barnes contributes an afterword.
Contents
i.GRACETOWN
The Lake (2011)
Summer (2007)
Ghost Summer (2008)
ii. THE KNOWING
Free Jim's Mine (2014)
The Knowing (2002)
Like Daughter (2000)
Aftermoon (2004)
Trial Day (2003)
iii. CARRIERS
Patient Zero (2000)
Danger Word (with Steven Barnes) (2004)
Removal Order (2014)
Herd Immunity (2014)
Carriers (2015)
iv. VANISHINGS
Señora Suerte (2006)
Transplanted (2002)
Courtship Rituals (2001)
Vanishings (2015)
About the Author

Tananarive Due is a recipient of The American Book Award (for The Living Blood), NAACP Image Award (for the In the Night of the Heat: A Tennyson Hardwick Novel, with Blair Underwood and Steven Barnes), and the Carl Brandon Kindred Award (for the novella "Ghost Summer"). The author of twelve novels and a civil rights memoir, in 2010, she was inducted into the Medill School of Journalism's Hall of Achievement at Northwestern University.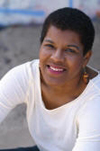 A leading voice in black speculative fiction, in 2004—alongside such luminaries as Nobel Prize-winner Toni Morrison—Due received the "New Voice in Literature Award" at the Yari Yari Pamberi conference co-sponsored by New York University's Institute of African-American Affairs and African Studies Program and the Organization of Women Writers of Africa.
A former Cosby Chair in the Humanities at Spelman College. where she taught screenwriting, creative writing, and journalism, she also teaches in the creative writing MFA program at Antioch University Los Angeles. Due has a B.S. in journalism from Northwestern University and an M.A. in English literature from the University of Leeds, England, where she specialized in Nigerian literature as a Rotary Foundation Scholar. In addition to VONA, Due has taught at the Hurston-Wright Foundation's Writers' Week and the Clarion Science Fiction and Fantasy Writers' Workshop. As a screenwriter, she is a member of the Writers' Guild of America (WGA).
Due and her husband, author Steven Barnes, met at a speculative fiction conference at Clark Atlanta University in 1997. They live is Southern California with their son, Jason. Her writing blog is at tananarivedue.wordpress.com. Her website tananarivedue.com.