About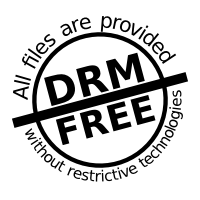 Weightless Books is an independent ebooksite devoted to DRM-free ebooks of all sorts.
We are excited by ereaders which allow the printed pages which we publishers spend so long making pretty, clear, and readable, to be read onscreen—one reason why whenever possible we will always sell pdfs. (PDFS were our biggest seller at first, but epubs have since overtaken them). As time goes by more titles will be available in the two dominant formats, epub and mobi, although some design- or art-heavy publishers prefer to release their ebooks only in hi- and lo-res pdfs.
Weightless Books are waitless—when you order you are immediately taken to a page where you can download your book. You will also be emailed an url from which to download your book. Register, and all your books are available at any time in your Library. You can get your ebooks sent directly to your ereader.
We sell DRM-free ebooks because we believe those who buy ebooks should be able to move them around between their devices at will.
What we want is to make Weightless the first site to go to for interesting ebooks from independent publishers.
Please be kind to these independent publishers and don't pirate these titles. Thank you!
Weightless Books opened (a soft opening) for business in March 2010 and has been growing organically ever since. Please excuse any mess and we apologize ahead of time for any mistakes we make as we learn. Reader feedback is always appreciated.
At first this site was quite small and as time has gone by, it has gained, if not weight, then heft! Look around, see if we've got something you like. Either way, come back in a bit as we'll always be adding more titles.
Weightless led off with books and zines from Small Beer Press and Blind Eye Books. We now have books and journals from Fairy Tale Review Press, Featherproof, Lethe, and many more. Titles are added every Tuesday and there will be a slow expansion to include more publishers. At the moment we are not open to submissions but that will change at some future point.
Follow our releases by subscribing to our rss feed.
Site design by Michael J. Deluca with help from Diana Cao, Felice Ling, and others using WordPress on Macs in 2010 (and on!).
Thanks for stopping by!
If you can't find what you're looking for here, try these:
Snack Reads, Wizard's Tower Press.
Weightless Books is run by two enthusiasts:
Gavin J. Grant is a firm believer in the do-it-yourself. He started a zine, Lady Churchill's Rosebud Wristlet, in 1996, cofounded Small Beer Press, an independent publishing house with his wife, Kelly Link, in 2000, and in 2010 launched WeightlessBooks.com, an ebooksite for independent presses. He has been published in the Los Angeles Times, Christian Science Monitor, Bookslut, Xerography Debt, Scifiction, The Journal of Pulse Pounding Narratives, and Strange Horizons. He co-edited The Best of LCRW (Del Rey), Steampunk! An Anthology of Fantastically Rich and Strange Stories, and for five years co-edited the fantasy half of The Year's Best Fantasy & Horror (St. Martin's Press). He lives with his wife and daughter in Massachusetts. More: Flickr, Twitter.
Michael J. DeLuca's short fiction has appeared, among other places, in Beneath Ceaseless Skies, Interfictions, Apex Magazine, Clockwork Phoenix, Abyss & Apex and Onirismes. He attended the Odyssey Writing Workshop in 2005, has volunteered at Small Beer Press for longer than he cares to admit, and is a member of The Homeless Moon writers' cabal. He lives in Michigan, brews beer, bakes bread, hugs trees, and builds websites. Read his blog at michaeljdeluca.com.
Gavin talks about Weightless soon after launch at Readercon in Boston in 2010: