Shopping Cart
Contains no books!
by Gavin 3 October, 2017

We're delighted and intrigued to note that among the wealth of new releases today there's a new title by perennial Weightless bestseller Ginn Hale, The Long Past, and to celebrate the new book, Ginn is interviewed by Judith of Binge on Books on USA Today's Happy Ever After: Judith: Ginn, congratulations on the new release […]

by Gavin 21 September, 2017

Leading up to the ninth anniversary of BCS next week, we're cutting the price on BCS ebook bundles in half! In nine years, BCS has published over 230 issues. Weightless has them all as single issues or in bundles, of 25 issues for $14.99 and 50 issues for $27.99. We're putting those bundles on sale […]
by Gavin November 1st, 2011
Tags: Apex Magazine, subscription drive, subscriptions
Western MA happens to be buried under 20+ inches of snow this November morning. Though Weightless floats above the mess, its lowly supporters under the drifts are operating at half-capacity. There may be a more elaborate/official announcement when the power comes back on, but for now:
November is Apex Magazine Subscription Drive month! Subscriptions are 25% off the regular price of $19.95, and at the end of the month, each new subscriber will recieve two free eBooks, Descended from Darkness Vol 1 AND Descended from Darkness Vol 2, the anthologies that gathered the first two years of Apex Magazine.
Ten random subscribers will also win a trade paperback of Apex's Stoker Award-nominated anthology DARK FAITH (featuring Jay Lake, Catherynne M. Valente, Mary Robinette Kowal, Brian Keene, Lavie Tidhar, Ekaterina Sedia, Tom Piccirilli, Alethea Kontis, and 23 others!).
And! If they reach 200 new subscriptions (this will include readers who add 12 months to their current subscription and new subscribers), Apex will award one random subscriber a . . .
. . . new and shiny Barnes & Noble Nook Color Nook Tablet!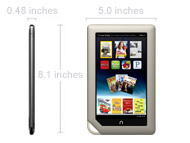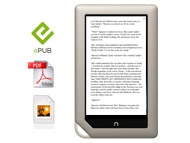 And as if all that wasn't enough… we're welcoming two new presses this week! Circlet Press starts off with three titles of speculative erotica edited by J. Blackmore, and Twelfth Planet Press with the first two volumes of their Twelve Planets novel series (which they promise will be available as a single subscription starting with the third volume), and a pawn-shaped poem from Karen Joy Fowler (!).
Posted on Tuesday, November 1st, 2011 at 9:07 am.